Adult / Masters
Masters Evening Sessions
"Masters" is an adult age category, not a descriptor of skills. Sessions are for adults of any skill level and include coaching sessions for classic and skate technique depending on instructor availability. First time skiers can learn the basics while intermediate and advanced participants receive technique tips and coaching to keep improving.
Note: due to the limited registration spots for 2021 due to COVID-19 restrictions, instruction will focus on beginner and intermediate skiers. Given the current (January 2021) restrictions on events and gahterings we can only accomodate three students per instructor and would like to focus on providing instruction to people who have not had much instruction in the past. Thank you for your understanding.
2021 Lessons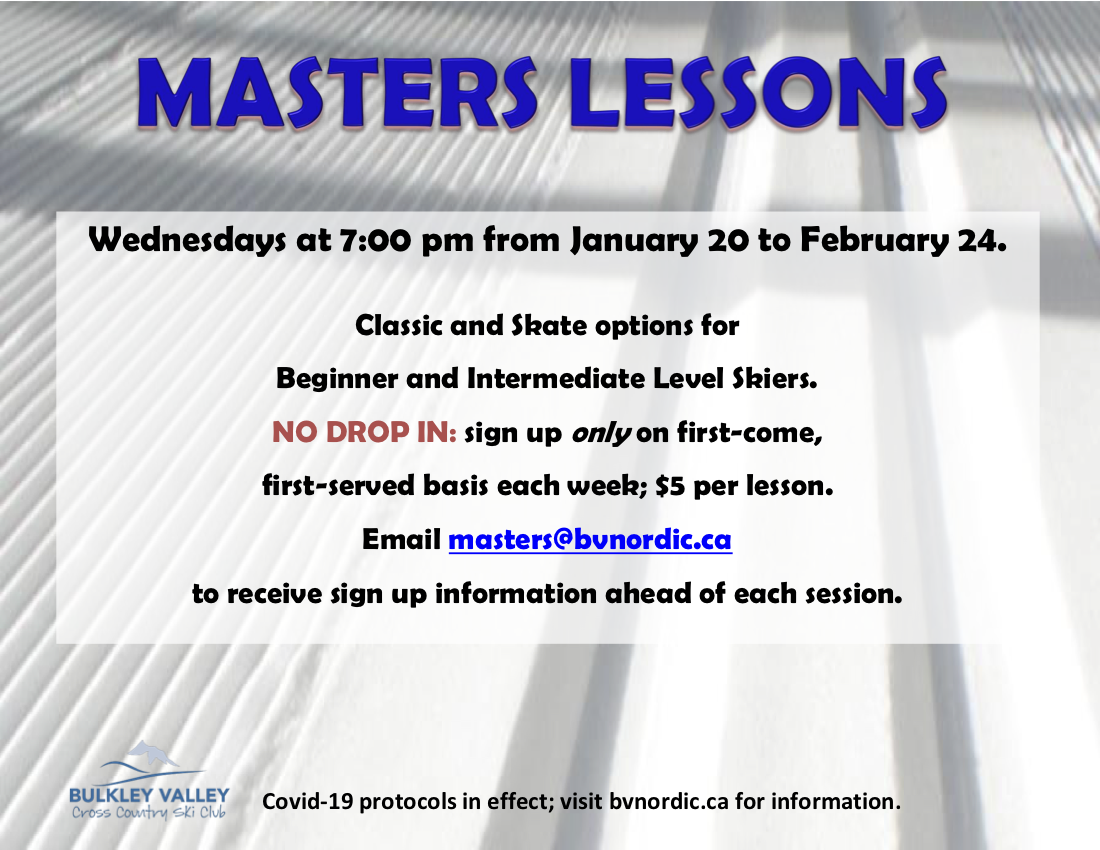 Masters ski lessons will begin on Wednesday, January 20 and continue for six weeks until February 24. Working with Northern Health and ViaSport we have implemented protocols to ensure members' safety during sessions. There will be no drop-in this year. Participation is limited to club members and you will need to sign up in advance by 9:00 pm Sunday each week -- spaces are limited.
Contact our intrepid organizer, Cobey, at masters@bvnordic.ca to add your name to the mailing list. Cobey will send out a weekly reminder on Friday mornings and confirm no later than the Tuesday before the lesson. There will be classic and skate options for beginner and intermediate level skiers.
Cost is $5 per lesson. Lessons begin at 7:00 sharp and run until about 8:15. Unfortunately, due to Covid-19, there will be no convening in the lodge before or after the lessons. Masks are required to enter the lodge and washrooms. Participants are asked to review the Club's Covid-19 protocols at https://bvnordic.ca/covid-19-info/
Private Lessons
Local CANSI Instructors can provide private lessons.
A list of local CANSI (Canadian Association of Nordic Ski Instructors) instructors is available at McBike Ski and Sport.
Masters Biathlon
To find out what is availble this year, email biathlon@bvnordic.ca