Busy Times and Trail Status
Updated Jan 19, 2021
Busy Times
The Club has COVID-19 safety measures to keep lessons and practices safe for participants while minimizing impact on other skiers. With minor exceptions, the lodge and trails remain open for other skiers however, if your day is flexible, it would be best to avoid the lodge and staging areas during the following times: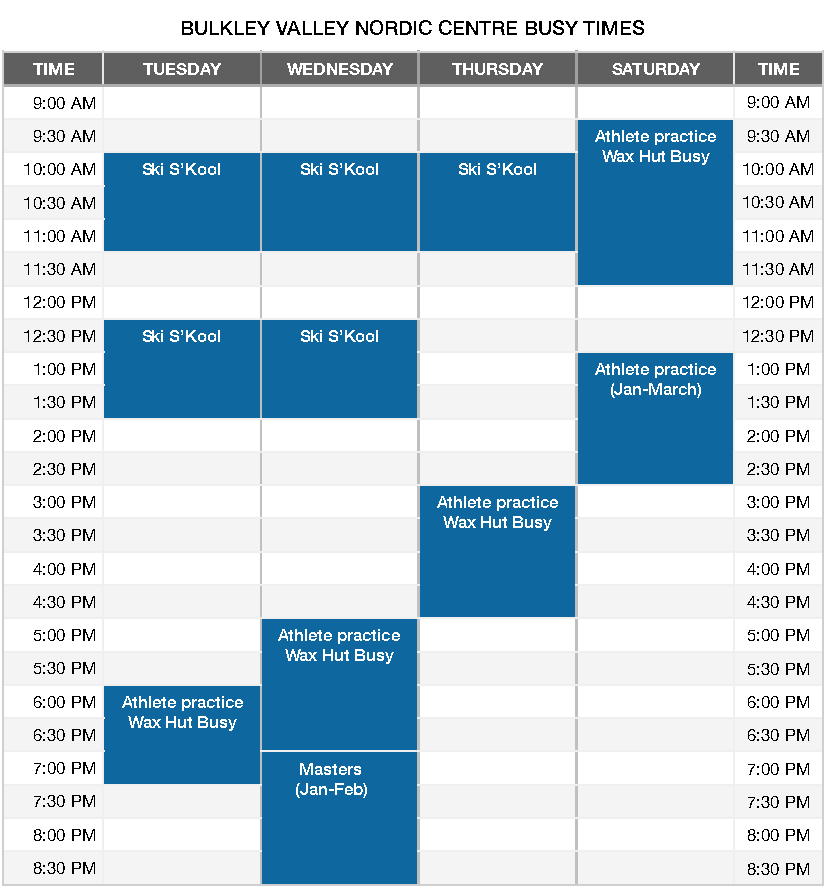 Trail Status
All trails open with the following exception:
Thin Ice and Deep Water Keep the Swamp Closed: We checked out the swamp crossing on the Pine Creek loop and it is still not freezing. Saturated soils from last fall's wet weather are still draining through the swamp. The moving water and lack of cold weather has resulted in less than an inch of ice where we normally ski across. In a couple places the beavers have maintained channels that are over 2 metres deep. This section fo the Pine Creek loop, between West Connector (jct F) and the 7.5 km Cut-off (jct E) will remain closed for the rest of the season. If you see ski tracks on that trail it is from people taking chances. In early January, a snowshoer fell through the ice on that section and was lucky to get out. Please be safe and avoid the swamp this year.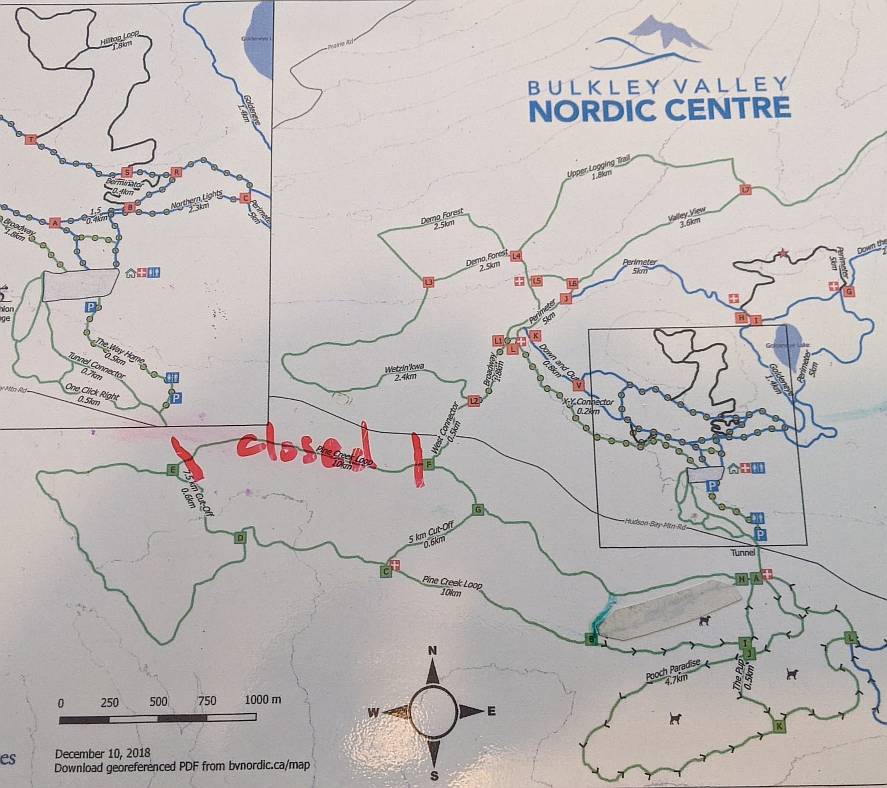 ~~~~~~~~~~~~
The wet cool summer and fall resulted in saturated ground everywhere in the Nordic Centre. Many of our trails would have been delayed if it wasn't for the last few years of summer trail work that has vastly improved drainage and smoothed surfaces on many of our trails. Thanks Recreation Sites and Trails BC, Rural Dividend Program and Wetzin'Kwa Community Forest for funding trail improvements the last few years. And huge thanks to Kevin Kriese and Brant Dahlie for leadership and direction of this multi-year project.
We have a new Grooming FAQ page if you want to know more about grooming at the Nordic Centre and how you can help with trail quality.
COVID Safety
Remember, if you are skate skiing and need to pass someone, please hop in the track opposite to the other person and double pole by. Also, if you are classic skiing and need to pass someone please do the same. And if you are skiing with a partner, please be courteous and hop in the track behind your partner to make space when others are skiing by. Avoid skiing side-by-side on hilly and curvy terrain.