Virtual Wetzin'Kwa Loppet 2021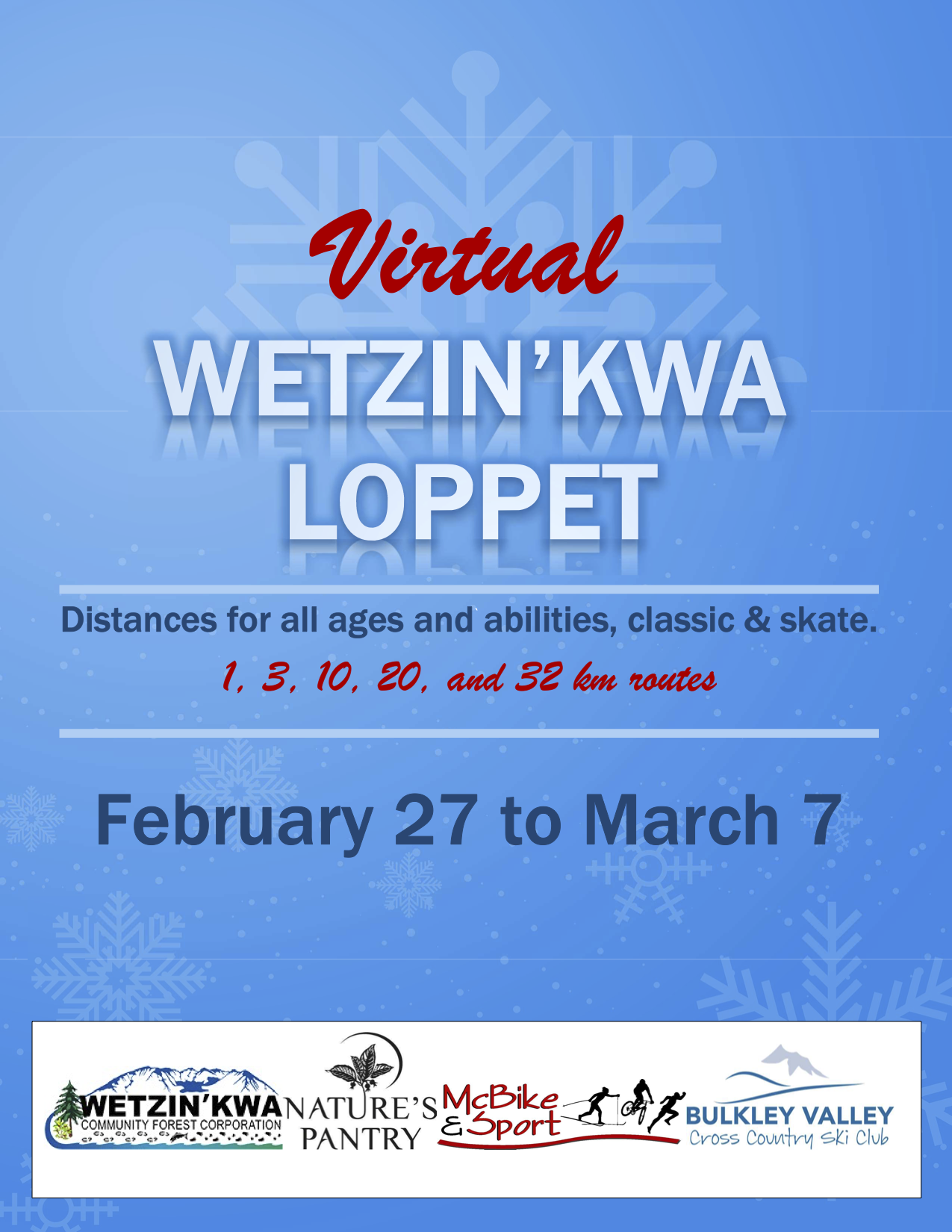 Fun for skiers of all ages and abilities, the Wetzin'kwa Loppet has something for everyone - it's not just about getting to the finish line first! While this year's Loppet will look a little different, it will also allow for more opportunities to challenge yourself on different trails.
When: Saturday, February 27 to Sunday, March 7
Where: Bulkley Valley Nordic Centre
Who: Anyone who can ski 1 km!
What: Your choice of Classic or Skate technique for distances ranging from 1 km to 32 km. Ski one route, some routes, or all routes! The choice is yours!
How: Download the Strava app to track your route(s) and time(s). Organizers ask for your cooperation in using the Strava app where possible. Please contact loppet@bvnordic.ca to make other arrangements if using Strava is not an option for you.
Cost: $5 suggested donation; proceeds to the BVCCSC athlete development team.
Strava Problems?
Is strava not matching one of the loppet segments to your activity? Follow these instructions to file a support ticket with Strava to get them to match the segment for you (if possible). Note: you need to use a web browser, not the phone app, to find the potential matching segments to send to Strava support.
Strava Loppet Segments
10k—2021 Wetzin'kwa Loppet Pine Creek Cruise
https://www.strava.com/segments/27229509
20k—2021 Wetzin'kwa Loppet The Classic
https://www.strava.com/segments/27440695
32k—2021 Wetzin'kwa Loppet The Outer Limits
https://www.strava.com/segments/27433212
Registration
Download and complete this registration form and email it to loppet@bvnordic.ca to register.
Register by February 24 for your chance to win a prize from McBike! Deadline to register is Saturday, March 6.
Route Maps
Every effort will be made to clearly mark the routes with colour-coded arrows. However, the onus is on participants to know the course. Please familiarize yourself with your course prior to beginning your race.
If there are differences between the maps and arrows on course, follow the arrows.
Our trail map page has information on how you can monitor your position on a map using trailforks or our georeferenced PDF map.
Safety, Trail Conditions, and Dogs
This is a self-supported event. There will be no hydration or feed stations. Be prepared to carry what you need with you. First aid will not be provided beyond what already exists at emergency kits located at some of the junctions. Participants should have a check in plan if skiing alone.
Please note that although our wonderful grooming team will endeavour to set fantastic tracks, conditions will vary over the course of the event. We appreciate your cooperation and understanding.
Given the length of the event, closing the dog trails is not an option this year. Participants skiing the 10, 20, and 32 km routes should be prepared to encounter dogs.
COVID-19 Safety
Visit https://bvnordic.ca/covid-19-info/ to familiarize yourself with the club's COVID-19 safety plan. Participants must be prepared to follow our guidelines for physical distancing and passing.
Past Results